The National Enquirer will never be mistaken for Reader's Digest, but this week they took the extraordinary step of running a photo of what they say is Whitney Houston in her open casket prior to her funeral on Saturday.
Not that it's all that shocking, when you think about it, as the shot is reminiscent of the Enquirer front page featuring Elvis Presley's open casket photo after The King died in 1977.
Did The Enquirer go too far, is this par for the course with today's tabloid journalism, or both?
ST LOUIS (LALATE) – Whitney Houston casket photos will be published in the National Enquirer as "Whitney's "Last Photo", the tabloid tells news today. The Whitney Houston National Enquirer photos, featuring Whitney in an open casket aka coffin, will be published by the tabloid this week as what it erroneously calls "Whitney: The Last Photo, inside her private viewing". Fans vehemently disagree. The last images of Houston were those from her stunning funeral last weekend in which a nation celebrated this enormous talent.
But that National Enquirer apparently thinks otherwise. The tabloid has obtained pictures of Houston, allegedly taken before that funeral, of Whitney in the casket. Houston appears in the open casket apparently during some period between her arrival at a New Jersey funeral home and before her funeral services. The pictures, hence, are not her final photos.
Whitney Houston's death photo appears in two positions on the current cover of the National Enquirer. The first death photo is a close-up on the cover. Whitney is in a coffin, resting inside a funeral home. The casket picture is taken from several feet away, and no other person appears in the image's foreground.
The header of the photo says "Whitney the Last Photo", adding "Inside her private viewing." The caption then adds that she was "buried in jewelry worth $500,000″, that she "wore her favorite purple dress", and that she "had gold slippers on her feet". The date of publication, however, is March 5, 2012.
Fans are outraged. But this is not the first time that music fans have watched as tabloids, in the U.S. and Britain, have chosen to publish death photos of their celebrities.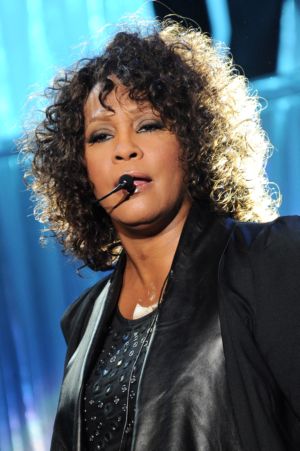 In July 2009, following the death of Michael Jackson, People, Time, and Newsweek all issued stunning, beautiful covers that remembered Michael Jackson at his career height, all commemorative editions.